Sturgeon: UKIP poster revealed by Farage was 'vile and racist'
Author: Jack Mann

Jun 26, 2016,
Leader Nigel Farage unveiled the advert which showed long queues of migrants walking through the European countryside under the slogan "Breaking Point".
The "breaking point" poster sparked outcry across the political spectrum as soon as it was unveiled by Nigel Farage, with Leave campaigner Michael Gove saying it made him " shudder" when he saw it.
Mr Farage faced nearly immediate criticism after revealing the poster in central London, with politicians from across the spectrum condemning the image. "I think they've run a very dirty campaign, they've run a very nasty and aggressive campaign". "We did have momentum until this awful tragedy".
Liberal Democrat Tom Brake said: "It's a shame that instead of engaging on the issues, Farage and his cronies have resorted to small-minded fear tactics and xenophobia". But whatever decision we make, it ought to be based on a genuine judgment about the pros and cons of the case and not on one person's momentary desire for the limelight.
Farage defended the immigration poster released only hours before Cox's death.
The Chancellor said: "There are perfectly legitimate concerns about migration, concerns that are felt in every Western democracy in the world".
"That is what we should say "No" to".
When asked if he was guilty of stirring up hatred, Mr Farage replied "I think I've been a victim of it to be honest with you".
He said: "I think the big advantage that Leave has got is passion but perhaps the advantage that Remain has got is that they are the establishment".
"Leave campaigners have descended into the gutter with their latest attempt to frighten working people into voting to leave the EU".
David Cameron said "quite simply there are people on this planet today who are only here and alive because of Jo".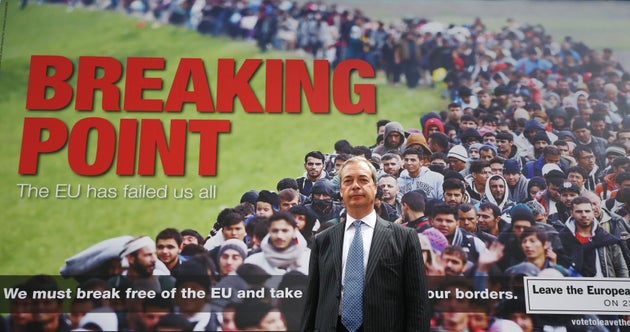 Philip Toscano PA Wire Ukip leader Nigel Farage launches an EU referendum poster campaign
He said that he would be comfortable with migration level of around 30-50,000 people a year but said the most important thing was to start a debate. "We would be safer taking back control".
"I do think there is an issue here called the quality of life", he said.
The Prime Minister was clearly stung by one man in the audience who likened him to a "21st century Neville Chamberlain waving a piece of paper in the air saying to the public "I have this promise" - a reference to the appeasement of Hitler in the 1930s.
"To suggest that Turkey is on the verge of joining the EU".
"I can't go on supporting this", Warsi told The Times newspaper. The argument is not about this poster or that poster.
"That is what we should say "No" to".
With the black door of 10 Downing St. offering a statesman's backdrop, Cameron appealed directly to EU-wary older voters, saying that leaving the bloc would risk the country's economic security - and younger generations would have to live with the consequences.
"On one "Vote Leave" flyer, the firm's logo appeared next to those of four other major companies including Unilever and fellow carmaker Vauxhall with the message: 'Major employers ... have all said they'll stay in the United Kingdom whatever the result of the referendum'".
It was described as "immoral and dishonest" by Labour's Yvette Cooper.
The caller, Carol, attacked Farage for his poor attendance record at the European Parliament's fisheries committee and claimed he had "reinvented yourself more times than Doctor Who".
David Cameron points out the 'three lies' made in Leave campaign leaflets
You can't win, you can't fight, if you are not in the room. "You can't win a football match of you're not on the pitch". He said it was "wrong in fact because it's a picture of people from the European continent in Syria and elsewhere.
---
---